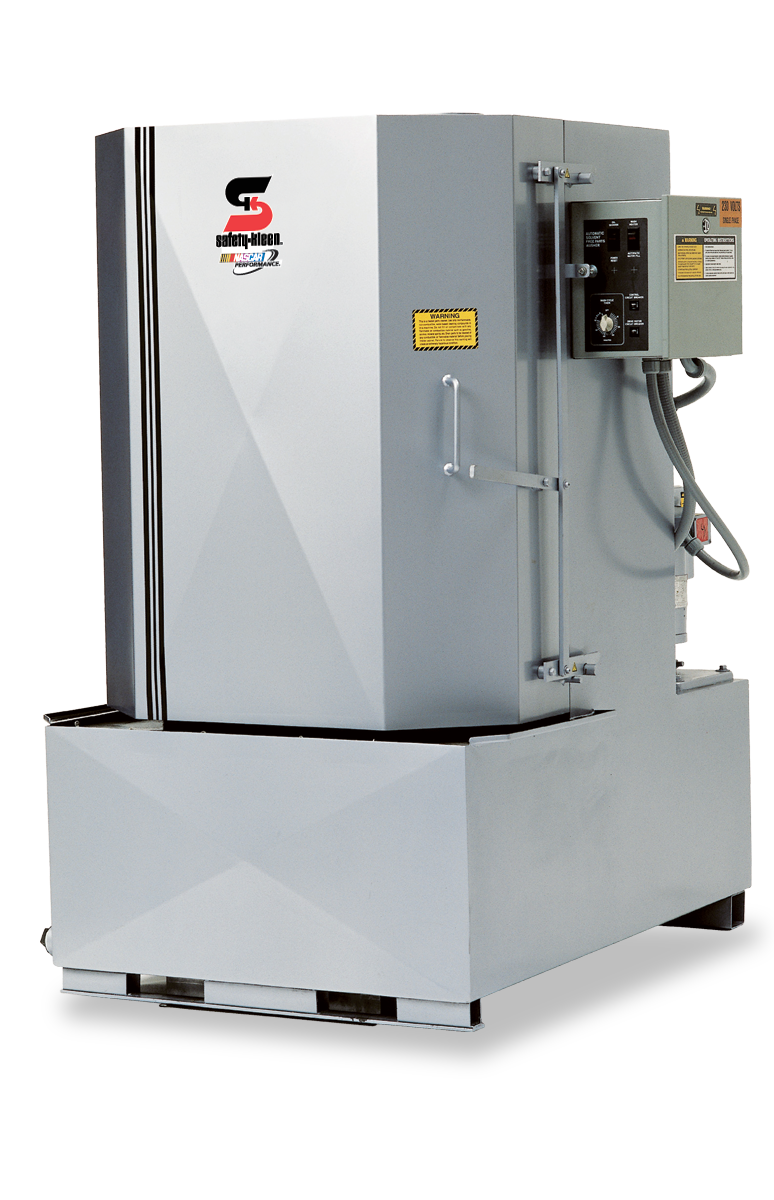 Automatic Spray Washer-Front Loader
Automate to save.
Safety-Kleen's automatic spray washers deliver superior aqueous performance with the labor-saving convenience of automation. Parts are placed in a basket or tray inside the spray chamber, and then sprayed with aqueous solution (140°F/60°C to 160°F/71°C) through multiple nozzles. For added convenience and savings, cleaning cycles may be programmed on timed intervals. These automatic washers can also be fully customized using a number of options including: swing-away intermediate spray bar, oil skimmer with stainless steel wheel, automatic water fill, low-water shut-off, single-channel timer (heat only), two-channel timer (heat and oil skimmer), basket for small parts (square with hinged lid 12" x 12" x 6"), and more. For additional equipment configurations and power supply options, please contact your local Safety-Kleen representative. 
Units available for purchase or lease-to-own.
Sizes are scalable to meet part size requirements. Various electrical configurations available. Turntable sizes range from 18" to 72".
 
S-K FL250
S-K FL500
Chemistry
ARMAKLEEN™: 4 in 1, Paint & Ink, Bio24™, M-100 BCR, M-100 BCR, M-HP-2, MM Dip, MM Recycle, M-Aero, M-GP
ARMAKLEEN™: 4 in 1, Paint & Ink, Bio24™, M-100 BCR, M-100 BCR, M-HP-2, MM Dip, MM Recycle, M-Aero, M-GP
Operation Type
Automatic
Automatic
Depth
52" (132.1 cm)
59" (149.9 cm)
Height
60" (152.4 cm)
64" (162.6 cm)
Width
43" (109.2 cm)
49" (124.5 cm)
Working Height
32" (81.3 cm)
36" (91.4 cm)
Electric Power
230 V, 1 phase
230 V, 1 phase
Max Fill
98 gal. (371 L)
140 gal. (530 L)
Material
12 ga. mild steel
12 ga. mild steel
Operating Temp
160°F (71.1°C)
160°F (71.1°C)
Operating Pressure
52 psi at 35 gpm
52 psi at 35 gpm
Turntable Diameter
25" stationary
31" roll-out
Max Workload
1000 lbs.
(453.6 kg)
1000 lbs.
(453.6 kg)
Pump Size
3 HP
3 HP
Heat
9 kW
9 kW
Listing
cETLus
cETLus