Motorsports Environmental Services
Anywhere you find motorsports you'll ­find a need to keep motorsports clean and performing well. That's where we come in. Safety-Kleen works hard to keep motorsports competitive. We're the official trackside environmental service provider for the biggest races in the world. If it has a motor in it, chances are Safety-Kleen equipment and service is close by.
SAFETY-KLEEN AND NASCAR®
If you follow racing in North America, you're following NASCAR. Since 1963, our relationship with NASCAR has grown to the point that they consider Safety-Kleen a critical partner in their sustainability program. And why not? Safety-Kleen represents the leading edge in environmental services. As a partner in NASCAR Green, the most successful sports environmental program in the world, we work closely with them to find new, sustainable ways to help Make Green Work.
OFFICIAL PARTNER OF 145 PROFESSIONAL RACING TEAMS.
Ever been to a professional racing garage? The ­first thing you notice is how clean it is. Absolutely spotless. You can feel the precision. It takes a lot of professional products and technology to keep racing running clean. And most professional racing teams trust Safety-Kleen to provide them with the machines and high level of service it takes for them to be competitive, week in and week out. Next time you're at the track, see for yourself how many different cars proudly display the Safety-Kleen logo.
SAFETY-KLEEN AT THE TRACKS. SIXTY-FIVE AND COUNTING.
You can't have a race without a track. And Safety-Kleen is proud to provide trackside environmental services at almost every major racing venue in America. We keep the bricks clean in Indy. The oil picked up in Daytona. The fluids changed in Talladega. Professional racing requires professional service. And the company they call is Safety-Kleen. Gentlemen, clean your engines.
Richard Petty Approved
Discover for yourself the advantages of using Performance Plus® Engine Oils and Lubricants.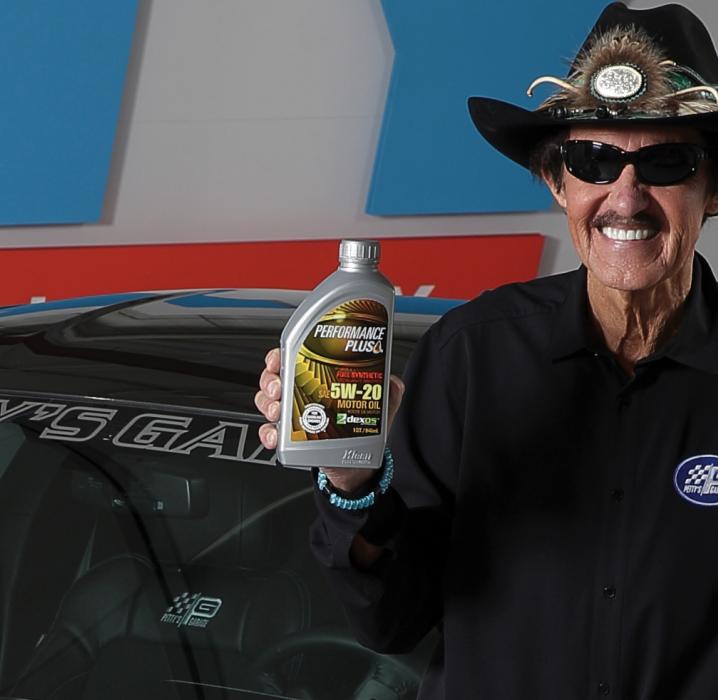 We've Created a Monster
Monster Truck, that is... Safety-Kleen has a long history supporting Monster Trucks. You can catch Monster Jam events across the country on any given weekend. There's nothing more exciting than watching a couple of tons of Safety-Kleen-branded steel launch 40 feet in the air and flatten a pile of cars. It's even more exciting when we win.