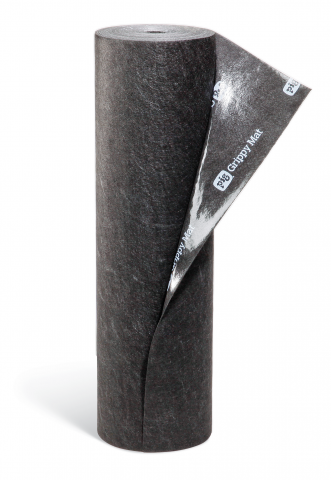 PIG® Grippy® Floor Mat
Tough-as-nails material takes constant abuse from wheeled and foot traffic while sticking firmly in place.
Our most durable adhesive-backed mat. Needle punched, it is built to withstand the heaviest walked on and wheeled traffic. Won't rip, shred or fray, even under heavy cart or pallet jack rollovers!
Textured surface scrapes away dust, dirt and sand from shoe bottoms and cart wheels
Absorbent layer quickly wicks and retains water and other liquids – helps prevent pooling and runoff
Dark color hides many soil types: mud, grime, stains and spills
Perfect for high-traffic areas like aisles, walkways, entrances and exits
Save over 50% annually compared to 12 months of rental mat fees; can be left down for months at a time
Reduce workers' compensation and general liability claims by up to 90%
Available in cut-to-length rolls or precut sections
1 roll cut to length - 36" W x 100' L (91.4 cm x 30.5 m) Absorbs 13 gal./roll (49.2 L)
1 roll cut to length - 36" W x 50' L (91.4 cm x 15.2 m) Absorbs 6.5 gal./roll (24.6 L)
Precut 36" W x 5' L mats - 36" W x 50' L (91.4 cm x 15.2 m) Absorbs 6.5 gal./roll (24.6 L) QTY 10
Precut 36" W x 10' L mats - 36" W x 50' L (91.4 cm x 15.2 m) Absorbs 6.5 gal./roll (24.6 L) QTY 5