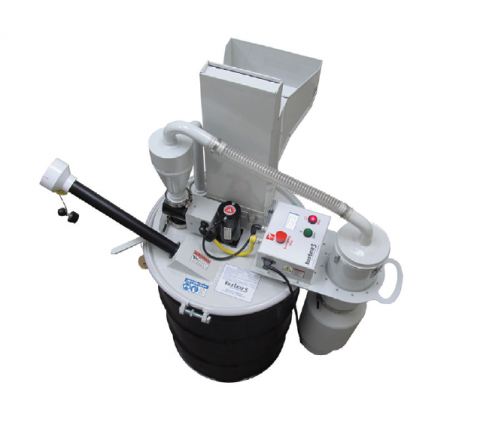 Bulb Eater® 3 Light Bulb Recycler
The safe, efficient way to recycle fluorescent lamps.
The Bulb Eater® 3 system not only crushes spent fluorescent lamps of any length, U-tubes and CFLs into 100% recyclable material, but it also captures over 99.99% of the vapors released! The system, which is mounted to a 55-gallon drum, can hold up to 1,350 4' fluorescent lamps.
Powerful DC motor crushes lamps from 1' to 8' long in less than one second.
Removable entry tubes accommodate all lengths and diameters of linear lamps. Lower angle and entry height improve operator comfort.
Digital control panel with LCD display and self-diagnostic fault codes.
Removable CFL/U-tube chute allows for any size of fluorescent lamps (sold separately).
New 5-stage filter system (filters and removes vapors during the controlled crush).
55-gallon drum (sold separately) will hold approximately 1,350 4' T8 crushed lamps to reduce storage requirements and handling prior to recycling.