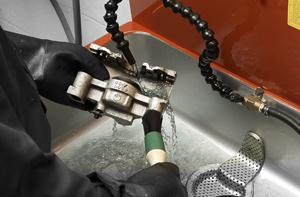 Safety-Kleen Premium Solvent
A special blend of hydrocarbons formulated to effectively remove oils and greases from a variety of substrates.
Flash Point > 140°F – eliminating the need to manage spent solvent as an RCRA hazardous ignitable waste.
Low Vapor Pressure – In order to improve air quality and reduce the formation of ground level ozone (smog), some states and municipalities have imposed vapor pressure restrictions (i.e., how quickly a solvent evaporates) on solvents used in parts washers. Premium Solvent has a low vapor pressure, allowing you to meet cold-cleaning regulations that require a vapor pressure of < 1.0 mmHg at 20°C.