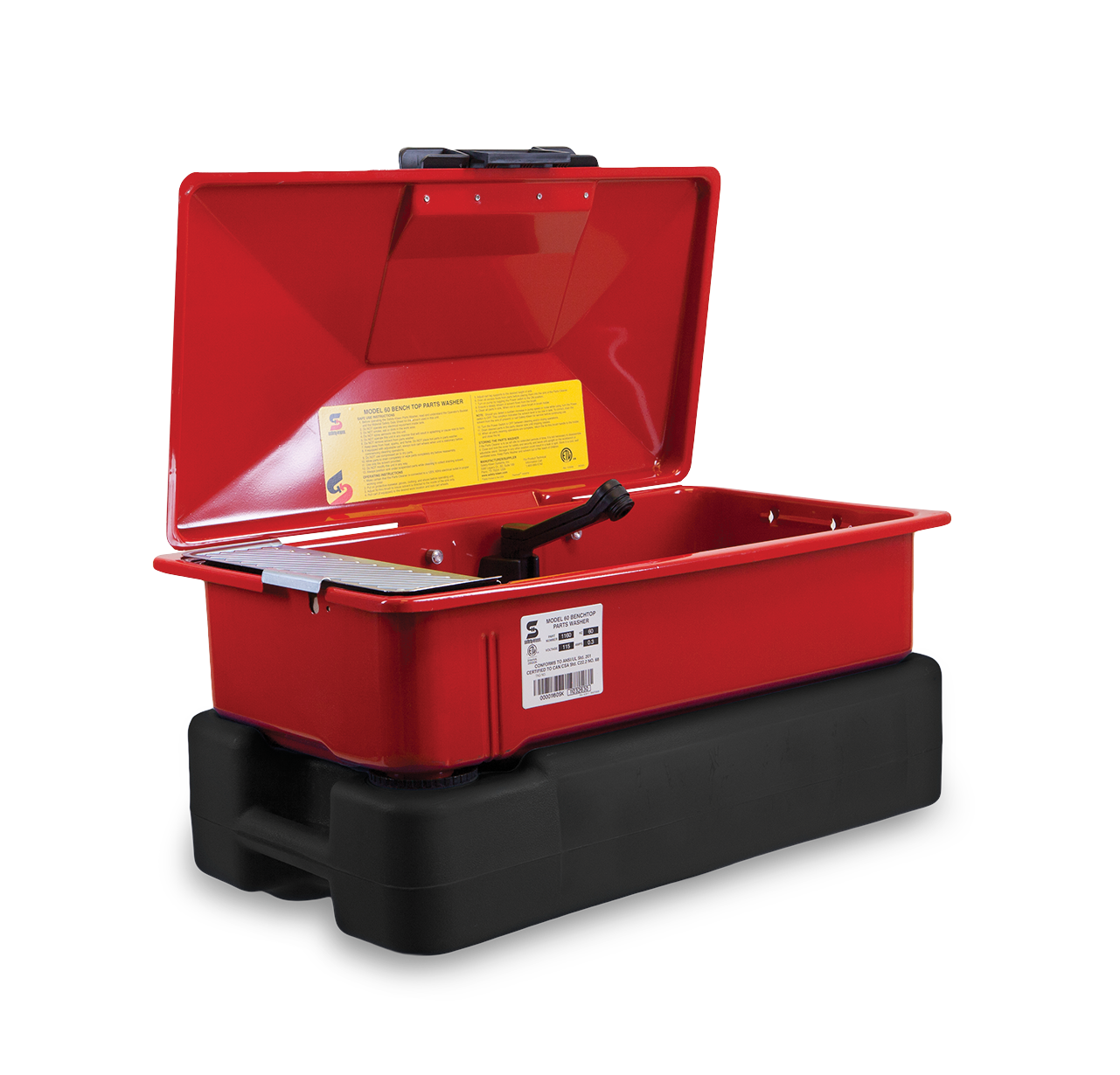 Model 14
Portable and adjustable.
A benchtop parts washer for use on workbenches around the shop or with the optional roll-around cart. All parts are manually cleaned using a flow-through brush. Solvent drains through the sink into the reservoir. The optional roll-around cart can be raised or lowered to accommodate most parts cleaning needs.
Model 14*
Chemistry
Premium Solvent, QSOL 220/300, PD 680 Type II, PRF 680 Type II, Odorless Solvent
Operation Type
Manual
Floor Space (with cart)

Height

Width

Depth

 

56" (142.3 cm)

30" (76.2 cm)

17" (43.2 cm)

Bench Space

Height

Width

Depth

 

31" (78.8 cm)

30" (76.2 cm)

15" (38.1 cm)

Sink Size

Height

Width

Depth

 

6.5" (52.1 cm)

20.5" (83.8 cm)

12.5" (50.8 cm)

Electric Power
115 VAC, 60 Hz, 0.3 A
Standard Fill
5 gal. (18.9 L)
Operating Temp
Ambient
Material
Steel, plated zinc chromate and polyethylene tank
Machine Color
Red
Max Workload
20 lbs. (9.1 kg)
Shipping Weight
68 lbs. (30.8 kg)
Max Filled Weight
102 lbs. (46.3 kg)
Listing
cETLus
*Certified reconditioned equipment. Local regulations may cause variations in requirements. Drum and chemistry sold separately.